At NCEA Trust, we take our pupils' safety and wellbeing very seriously. We're here to help, not to judge and our doors are always open if you have any concerns or just need a chat.
Click here to access the worry wall, you will need to be logged in to your school Google account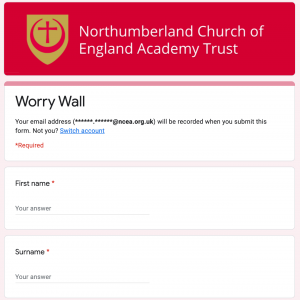 If you don't feel like you want to speak to a teacher or a member of staff, you can reach out to charities like Childline, who can provide support and advice over the phone or online. Find out more at: www.childline.org.uk/somethings-not-right or call the 24hr help line on 0800 11 11.