Ask any millennial what they think of when you say the word 'scientist' and they will probably give you a description of an Einsteinesque figure wearing thick glasses and a white lab coat, tinkering with some chemicals or perhaps a microscope.
While there have been men and women, both old and young, of all races, shapes and sizes making incredible scientific discoveries for generations, the typecast of a scientist almost always comes back to the white, middle-aged man.
This British Science Week (5-14 March 2021) Northumberland Church of England Academy Trust is backing the #SmashingStereotypes campaign to show just how diverse the science, technology, engineering and maths (STEM) sectors actually are, and shine a light on some of the amazing career opportunities to be had within the industry.
Meet Danny – a girl in science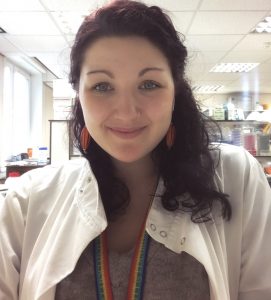 Daniela "Danny" Schnitzler is a 27-year old PhD student at the University of Edinburgh.
Originally hailing from Vienna, Austria, Danny came to the UK to complete her undergraduate studies in Physiology at the University of Aberdeen before moving to the Scottish capital to pursue her doctorate.
Having nurtured an interest in science from an early age, Danny always knew she wanted to do something 'a bit different' when she grew up.
"My parents instilled a real love of learning in me from an early age," Danny said.
"They took me museums, encouraged me to read and watch documentaries – the first DVD I ever owned was BBC's 'Walking with Dinosaurs'. I watched it on repeat!
"I really wanted to be an archaeologist when I was little, but it was my natural curiosity about how things work which eventually pushed me toward biology."
'Learn the book and you'll be ok'
Growing up in Vienna, where the school system is quite different to what we know in the UK, Danny was provided with a good, all-round education in a wide variety of subjects, although she confesses that her "terrible" biology teacher did nothing to further her interest in science.
"The curriculum in Austria isn't very flexible. Everyone studies the same subjects until they're 15 then you get to choose from just two academic routes – Mathematical where you can do 3D drawing and Italian; or Language, where you can study Latin and French. You don't drop any subjects, these just get added to your timetable until you leave school at 18.
"I loved school for the learning, but the system was just so restrictive, there wasn't the same level of opportunities for girls and boys.
"Although I enjoyed most subjects, I was still drawn towards science, but this was more to do with my parents' encouragement than my teacher's – my biology teacher in particular was so uninspiring, it was just a case of 'learn the book and you'll be ok'."
"I've never been easily grossed out, except by little dead fish!"
Despite this, Danny was accepted onto the undergraduate Masters programme in Physiology (the study of how the body works) at the University of Aberdeen. Over the course of five years, Danny worked towards her MSci degree, gaining industry experience along the way which helped her to realise that she preferred the academic research element of biology more than its practical application in industry.
"There were too many constraints in a commercial lab environment and although the salary would have been undoubtedly much better, I wanted the freedom to explore ideas.
"I've never been easily grossed out, except by little dead fish, so working with live tissues in order to better understand how the human body works was always something that I knew I could do, I just needed to narrow in on a field of study."
"I'll be a Doctor when I graduate, but the Ross Gellar kind, not a GP!"
PhD projects are typically put forward by the government or a charity, who will then fund a student to conduct research. In Danny's case, it was a project suggested by her supervisor that saw Danny relocate to Edinburgh to commence her research into the impact of stress during pregnancy in mammals and the likelihood of the offspring developing anxiety in later life.
"It's a really fascinating piece of work – there's lots of research but also a big practical element too," Danny explained.
"I spend a lot of time in the University lab, conducting experiments and analysing data. At the moment, I'm studying my research model in rats, looking at the behaviour of pregnant females in different environments where they're exposed to stress and then studying their offspring to denote any behavioural changes as they mature.
"Lots of people think that animal testing is cruel and inhumane, but it's a necessary part of the progression of science. Without it, we wouldn't find cures for diseases and we certainly wouldn't have been able to roll out the Covid-19 vaccine as fast as we did.
"The UK actually has the best standards in the world for the use of animals in laboratory environments. Every practitioner needs to be registered and every experimental plan needs to be pre-approved by a vet. It's so closely regulated, everything needs to be justified and recorded."
That's not to say that to have a career in science that you have to perform experiments using animals. There are a wide range of different study areas within biology alone which look at things like plants, viruses, bacteria and drug development.
"If you're curious about how things work, then science could be a good choice for you"
When asked what advice she would give to a young person thinking about pursuing a career in the sciences, Danny said: "It can be daunting at the age of 15/16 when you're choosing your options to really think about what you want to do in the future. I'd say, if you're curious about how things work, then science could be a good choice for you. Plus, there are so many different paths you can go down with science, you can adapt as you go, so there's no such thing as 'wrong' choice.
"Another thing I'd say is, lots of people think that science is all academic, but actually, it can be creative too. When you're designing experiments and trying different methods, creativity is a big part of the process."
Girls who run the world
When she's not in the lab, Danny can usually be found at home or out walking in the Pentland Hills with her partner, Cameron, and their three dogs, Charlie, Sid and Harry. In what spare time she does get, Danny is a huge advocate of women's rights and runs her own ethical jewellery business online, where for every item she sells, another is donated to a women's shelter.
"All of the jewellery I make is inspired by strong female figures from history, including scientists like Marie Curie, whose research into radiotherapy founded an early treatment for cancer and Hedy Lamarr, who pioneered the technology now used in WiFi and Bluetooth.
"It would be great to see more young people and especially girls taking an interest in science – we're very outnumbered in laboratories, especially in academic settings!"
To find out more about the British Science Week #SmashingStereotypes campaign, visit: https://www.britishscienceweek.org/