Our Vision
Jesus said: "In the same way, let your light shine before others, so that they may see your good works and give glory to your Father in heaven." Matthew 5: 16
As a Church of England Academy Trust, we welcome learners of all faiths and provide a place where all can 'let their light shine.'
Our LIGHT values of: Love – Inclusivity – Goodness – Hope – Truth try to encapsulate the core features of the Christian faith and are lived out in the day to day life of our schools.
Our Chaplain
"You have searched me, Lord, and you know me." Psalm 139: 1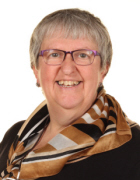 Sally Milner is the NCEA Trust's full-time Chaplain and works across all of our schools and campuses. Sally takes a proactive approach to her role within the Trust and can often be found leading collective worship, speaking to pupils one-to-one, or answering questions in an RE lesson or in the playground. The Chaplain helps our staff and pupils to explore and develop their beliefs, to celebrate in times of joy and success and to express sorrow in times of sadness or loss.
Our Community
"…the believers were one in heart and mind" Acts 4: 32
As a Church of England Trust, we are part of the Diocese of Newcastle. Our schools and campuses in South East Northumberland cover the parishes of St Aidan in Lynemouth, St Bartholomew in Newbiggin-by-the-Sea and St John and St Andrew in Seaton Hirst where we maintain close links with the clergy and parishioners.
Our Opportunities
Jesus said: "I have come in order that you might have life — life in all its fullness." John 10: 10
The aim of the NCEA Trust is to provide the very best opportunities for everyone to live "life in all its fullness".  Our schools are here to enable pupils to grow and reach their full potential in regard to their academic, physical, moral and spiritual development.  We want all of our pupils to grow into mature, well-rounded adults who work together to build up communities, have a heart for the vulnerable and have the confidence and skills to make the world a better place for all.
Our Chapel
"How awesome is this place! This is none other than the house of GOD, and this is the gate of heaven." Genesis 28: 17
We have a chapel on the top floor of Duke's Secondary School.  It is a place of calm and reflection available throughout the day.  Morning Prayer is said every weekday morning in term time at 8am.