Case study: NCEA Warkworth C of E Primary School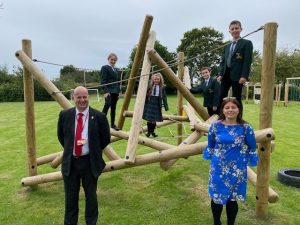 Nestled in the beautiful Northumbrian village of Warkworth, Warkworth C of E Primary School is the most recent addition to Northumberland Church of England Academy Trust (NCEAT).
A small school with big ambitions, Warkworth C of E Primary transitioned into the county's two-tier school system in 2017 to extend its offer to pupils up to age 11.
Passionate about its role in the community and with its Christian vision and values firmly at the heart of its curriculum, the school sought to join an Academy Trust to support its ambition to expand.
Laura Ritson, Headteacher at NCEA Warkworth C of E Primary School, said:
"We welcome all families in our community who wish for their child to go to a school with Christian values at its core, however, NCEA Warkworth Primary is the only Church of England primary school in the local area, so demand often outstrips supply.

"Joining an Academy Trust is something that we had considered to enable us to meet growing demand, however we wanted to make sure that the Trust we chose was going to be the right fit for our community-driven school. We consulted with the Joint Education Team at The Dioceses of Durham and Newcastle, who put us in touch with a number of Multi-Academy Trusts operating locally who shared our vision and values.

"After meeting with Alan and other members of the team from NCEAT, we knew that the Trust was going to be the best fit for Warkworth Primary. The Trust's Church values matched our own and we loved how these were embedded into school life. We also liked the idea that we could join the Trust while maintaining our sense of independence – we didn't have to change our school logo or any of our fundamental values, instead, we were encouraged to retain our individuality and to keep doing what we were already doing, just with the added knowledge that we were being supported by an Academy Trust."
Alan Hardie, Chief Executive at NCEAT, commented:
"We were delighted to welcome Warkworth C of E Primary School into the NCEA Trust last September. The school shares many of our ideals about the importance of providing an all-round educational experience for children which captures not only academic learning, but also the teaching of softer skills, such as how to communicate effectively – which in turn supports their personal development and overall mental health and wellbeing. Already, Warkworth Primary is seeing its ambitions to grow come to fruition as we have supported them to fund a new modular building on the school premises which will create additional space for its early years and reception classes."
To find out more about NCEA Warkworth C of E Primary School, visit www.warkworth.ncea.org.uk.

Let's talk
We make the transition process as easy as possible for schools looking to join the NCEA Trust. If you're looking to find out more, simply complete our online contact form and a member of our Central Services team will get back to you to help answer all of your questions.